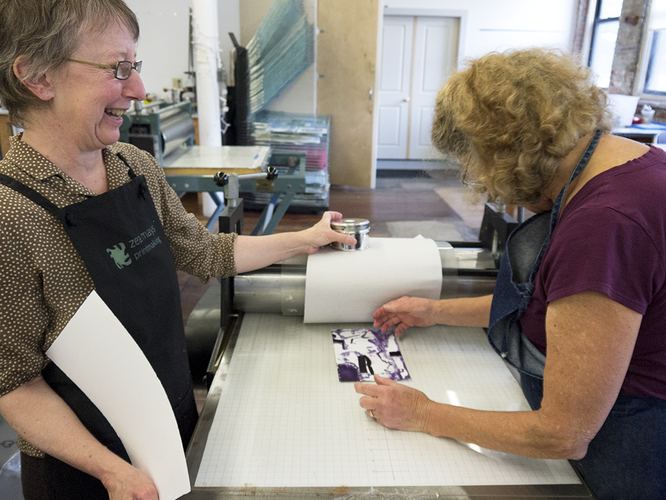 Individualized instruction and mentorship
2022 Workshop Schedule
I love sharing new methods of printmaking and helping artists break through a barrier and come to a new relationship with their work. My background as both a painter and a practitioner of bodywork provides the foundation for the way I teach printmaking. As a mentor, I help people slow down, and take the time to notice their own deep and continuing connection to nature and human nature. Highlighting the sensory experience of the world; seeing, touch, hearing, how we feel the breath, I help students make those sensory connections familiar as their sources of inspiration in their studio practice. I encourage people to make those connections with their own sensibilities. By being attentive to the texture, the feel of the inks, the paper and the tools of printmaking students learn to let the process guide and inspire them.
The areas of expertise that I bring to the mentoring program are: color theory applied to layering and color mixing for printmakers, viscosity printing techniques, monotype printing on and off the press, layering and combining monotype with woodcut, and alternative relief plates, collage, and polyester plate lithography, composition and articulating content of personal work.
Individualized instruction and mentoring is a collaborative effort to find and uncover visible experiences that cannot be expressed in any other way than through the exploration of these materials. I love being present for those moments, and helping each artist shape a series or a whole body of work in light of these discoveries.
Joyce Silverstone Workshops 2022
Akua Intaglio Ink Best Practices
March 19 + 20 / 10am to 5pm
Zea Mays Printmaking, Florence, MA
https://www.zeamaysprintmaking.com
Carborundum Collagraph and Drypoint
April 12, 19, + 26, Three Tuesdays Series / 10am to 5pm
Zea Mays Printmaking, Florence, MA
https://www.zeamaysprintmaking.com
Drypoint and Color
May 6 - 8 / 10am to 3pm
Zea Mays Printmaking, Florence, MA
https://www.zeamaysprintmaking.com
The Viewer Becomes a Traveler: Making Scroll Prints
June 2 - 5 / 10am to 5pm
Zea Mays Printmaking, Florence, MA
https://www.zeamaysprintmaking.com
Summer Mark-Making Lab
June 18 + 19 / 10am to 5pm
Shepherd & Maudsleigh Studio
https://shepherdmaudsleighstudio.com/
Drypoint and Monotype Variations
August 15 - 19 / 9am to 4pm Morning instruction with afternoon open studio
Truro Center for the Arts at Castle Hill, Truro, Cape Cod, MA
https://www.castlehill.org
Natural Patterns and Printmaking
October 17 - 21
Snow Farm, New England Craft Program
https://www.snowfarm.org